Twitter is more than just a social network –  


it's a tool for learning and developing relationships.
Used right, it can enable you stay up-to-date in your field by
chatting with experts and developing a personal learning network.
But if you're not already tweeting, it can be an intimidating conversation to join.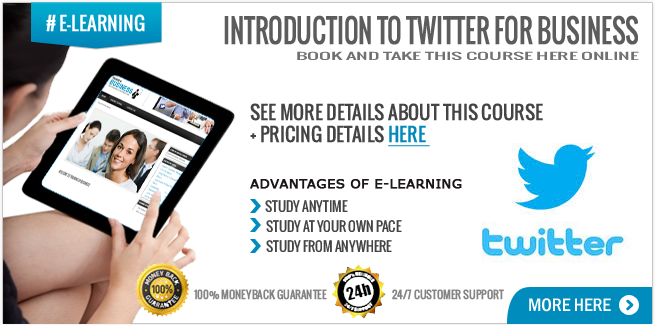 Get started using the social network for professional networking and development
with this training course. We'll start at the very beginning, with explanations of how
Twitter works, how to create an account, understanding different kinds of tweets and
how to build relationships with other users.
In less than 10 minutes, this course will get you involved and engaged in the social media
conversation – ready to learn, network and grow.
If you've never used it before, this course is Twitter 101!
Course Content :
Introduction
Creating an account
Editing Your Own Profile
Reading Tweets
Protecting Your Tweets
Four Kinds of Tweets
How to Tweet
Mentions, Replies, & Retweets
Book this Course:
Book this course here online, Here
OR
Back to the full range of courses here:

Contacting Us
If you would like further information about any of our courses,
then please complete our online enquiry form here