With over one billion users, Facebook has come to the forefront in 


popular social media applications.
Now more than ever, businesses and companies are using Facebook
as a platform to display essential updates and messages
for their target audience.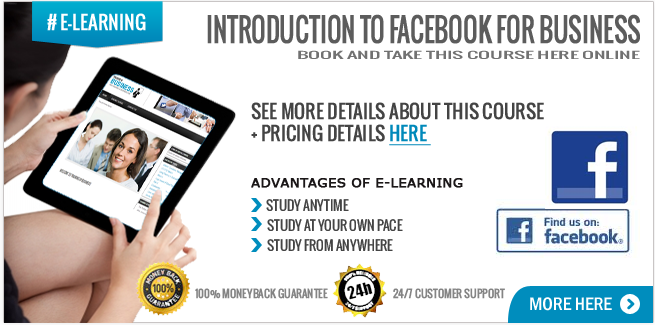 Getting started on Facebook and creating a page is compelling
because its free. If your business is struggling to remain in the presence
of your audience, try incorporating a Facebook page to approach
your target audience.
Use the specific applications and tips covered in this course and your
business will be visible to Facebook users around the world.
The course covers the following topics:
Introduction to Facebook
Facebook Definitions
Creating and Editing Facebook Pages
Facebook Page Layout
Building an Audience
Communicating to Drive Sales
Tips and Pointers
Staying in Touch

Book this Course:
Book this course here online, Here
Or
Back to the full range of courses here:

Contacting Us
If you would like further information about any of our courses,
then please complete our online enquiry form here